MOTUS LAEVUS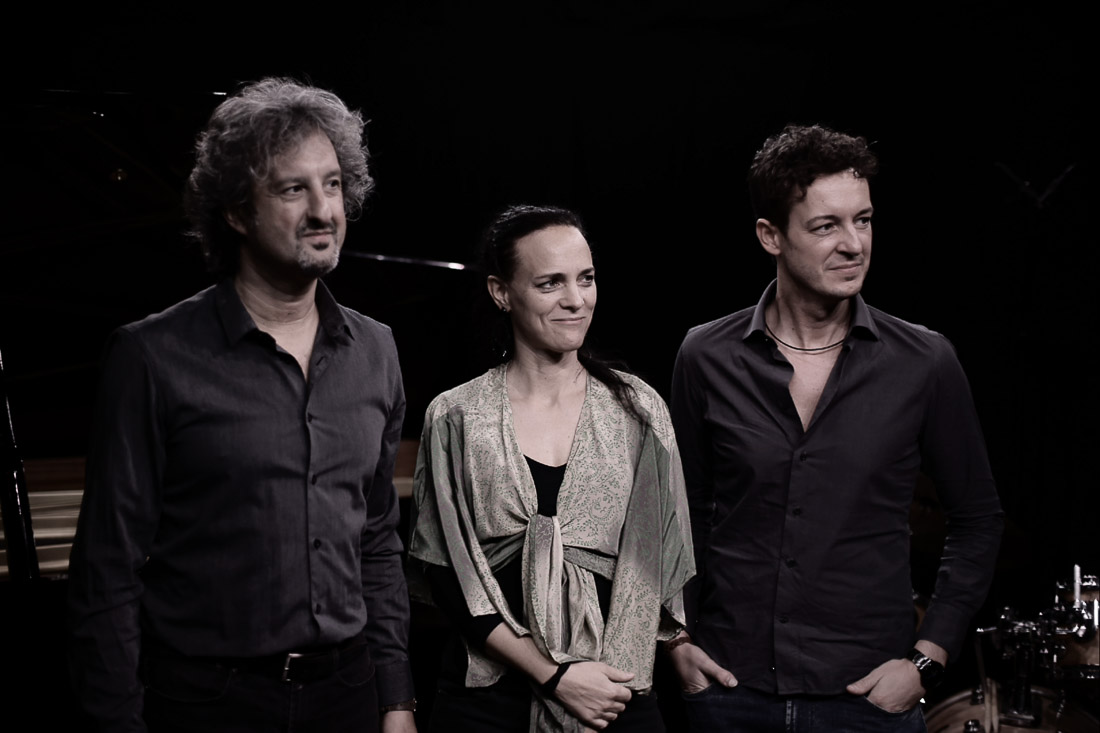 Tina Omerzo: vocals, piano, keyboard
Edmondo Romano: soprano sax, clarinet, chalumeau, Whistle, zurna, cornamuse
Luca Falomi: acoustic guitar, classical guitar, 12 string guitar
Motus Laevus has many meanings and interpretations in Latin. Translated literally, it means inverse movement, but it can also mean anticlockwise or "left-handed", also in the positive sense that Latin people attribute to the Orient.
Everything and the contrary of everything, underlining the fact that words, like music, contain within them multiple directions and forms in time and space; a world without boundaries.
Within the Motus Laevus project many elements coexist naturally: the sounds and languages of antique and modern instruments, both acoustic and electric; original compositions and traditional pieces, all in a melting pot where world music draws close to contemporary jazz; Slovenian songs and European culture blend with North African and Oriental dance; Eastern compositions from ancient times become mingled with Middle Eastern, Greek and Turkish scales.  In this "Motus" (movement) everything evolves and transforms with each interpretation that the group makes.
In April this year (2020), the group's first CD, "Y" is being released. Recorded and distributed internationally by Beppe Greppi, for the prestigious world music label Felmay, produced by the composers Pivio and Aldo De Scalzi for Creuza.
With guest appearances by Marco Fadda in the rhythm section, and Rodolfo Cervetto on drums.
The letter Y of the title is a coordinate, a variable, and in many cultures it is the letter that represents a rite, an initiation, the graphic for man, a symbol of elevation into the heavens; a metaphor with thousands of meanings.


General informations
Title: SIFR
Label: Felmay Records
Production: Pivio e Aldo De Scalzi
Catalogue: 

fy 8289

Barcode: 

885016828929

Country Italia/Balcani
Genre World Music / Jazz
Store: www.felmay.it
Tracklist
Nihavend longa 05.27
Brala Jana kapini 06.01
La tredicesima ora 07.59
Misel vode 06.38
Kukuk kus 03.38
Fondaco 07.34
Taksim 07.28
Jovano Jovanke 07.15
General informations
Title: Y
Label: Felmay Records
Catalogue: fy 8270
Barcode: 885016827021
Country: Italia/Balcani
Genre World Music / Jazz
Store: www.felmay.it
Tracklist
Smirneka (Greek/Turkish Trad.) 8.46
Nekaj je na tebi (T.Omerzo/M.Maljevac) 6.21
Gream paralele (Croatian Trad.) 2.46
3 days ago (T.Omerzo) 7.26
A call for the winds (T.Omerzo) 5.55
Novembre (L.Falomi/M.Canepa) 7.24
Shanfara (E.Romano) 6.09