Tina Omerzo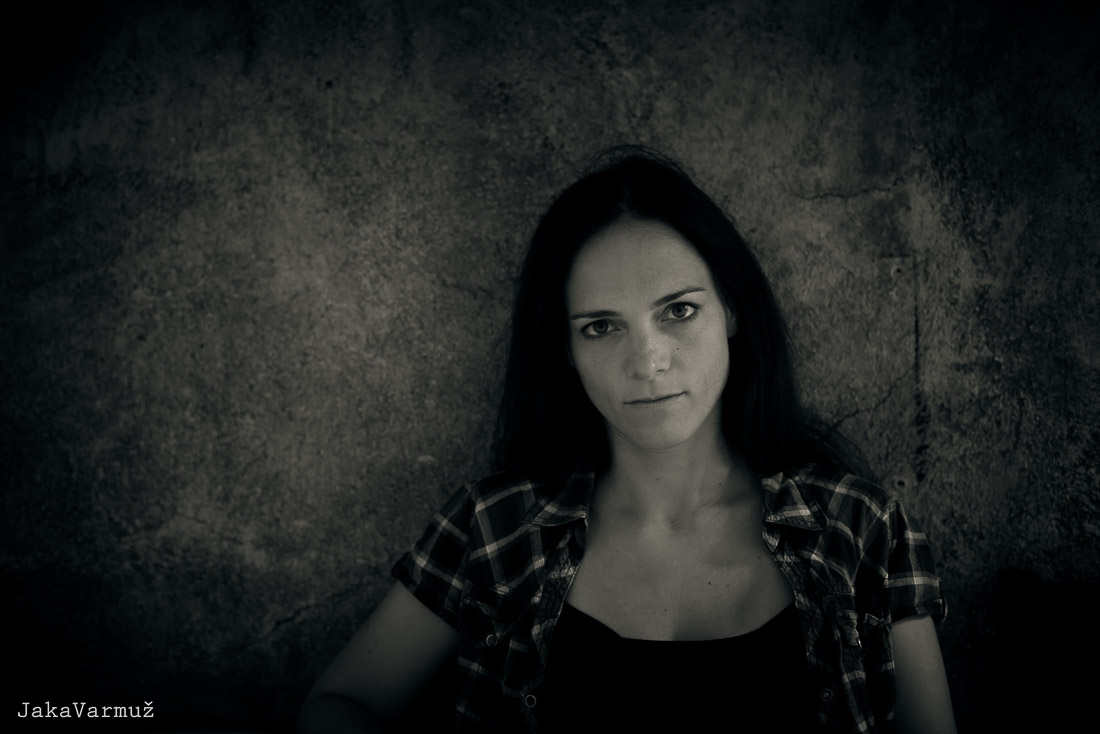 A pianist, singer, and composer, Tina was born in Slovenia, and studied the piano at the State Music School in Koper, under the tuition of Nadia Zerjal, who quickly introduced her to studying not only classical music, but also contemporary improvisation. She graduated in 1992 and then moved to Lubiana, where she continued her studies in jazz piano music.
After having moved to Genova in 1998, Tina won a scholarship from the European Community, which enabled her to perfect her studies in improvisation and jazz composition, in Siena. In 2006, she, with the trio Istralia, won the Emerging Jazz in Liguria contest and this enabled her to record her first CD of original composions. In 2008, she won the MAD jury's special award for Best interpreter and musician. Tina's artistic creativity is influenced by her wide musical experience, ranging from jazz, to ethnic, to classical. Throughout her musical journey, she has collaborated with, amongst others: Echo Art, Simona Barbera, Roy Paci, and Gnawa in the project Sicily!. In 2010, Druga Sila, a disc in which Tina composed all the music to the lyrics of Mojca Maljevac, was selected and produced by the Slovenian Ministry of Culture, and received excellent critical reviews. She is a member of HIC (Hidden Improvise Consort) conducted by Claudio Lugo and "La Banda di Piazza Caricamento" (Echo Art).
Discography: Istralia (2006), Intima (Goga 2007), Druga Sila (Sanje 2010),  Improvvisamente Giua (Egea 2016), Pizze a Domicidio (OrangeHomeRecords 2019), Cepi Meets HIC (Torto2019).
Edmondo Romano
soprano sax, clarinet, chalumeau, whistle, zurne, cornamuse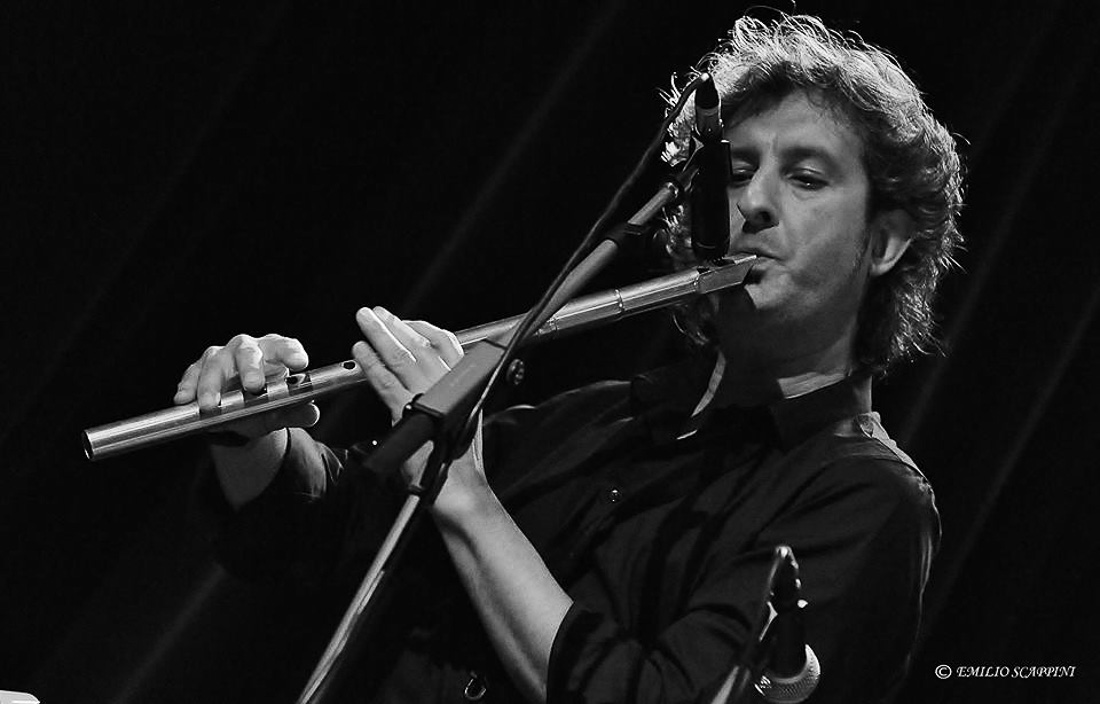 A Master of wind instruments, and composer, Edmondo has worked for 30 years in the spheres of experimental music, folk, ethnic, world, minimalist, soundtracks and more. Perfecting his use of instruments from diverse cultures and musical expressions; he plays numerous wind instruments.
Edmondo has played on, and composed, innumerable film soundtracks (in collaboration with Pivio and Aldo De Scalzi); he has set poetry readings to music for, amongst others, Adonis, Fernanda Pivano, Maurizio Maggiani, Don Andrea Gallo, Ugo Volli; he has composed the music for many theatre productions, including performances, since 1985, by Laura Curino, Lina Sastri, Laura Sicignano, to name but a few; he has also composed for television. Edmondo has performed at major world music festivals in Italy, Spain, France, Finland, Russia, Brazil, Germany, and Japan. His training ranges from singer songwriter, to progressive rock, from experimental music to folk, and beyond, studying alongside numerous musicians, amongst whom are: Vittorio De Scalzi, Mauro Pagani, Picchio dal Pozzo, Mario Arcari, Ares Tavolazzi, Antonio Marangolo, Ingrid Chavez, Yo Yo Mundi, Armando Corsi, Tony Esposito, Marco Beasley, Marco Fadda, Elias Nardi, Max Manfredi, Arup Kanti Das, Filippo Gambetta, Maurizio Martinotti, Franco Lucà, Roberta Alloisio.
Edmondo has worked on more than 120 albums, with some or the most important record labels in the worlds of ethno-folk, progressive, and world d'Italia (Le Vijà, Orchestra TradAlp, Picchio dal Pozzo, Charta De Mar, Comunn Mor, Fabio Zuffanti, Hostsonate, and others). His personal recordings, on which have appeared the likes of Eris Pluvia, Avarta, Orchestra Bailam, and Ancient Veil, have received critical international acclaim.
Artistic curator and composor for the theatre company Compagnia Teatro Nudo with which Edmondo does a great deal of work, including as director since 2006. As a  soloist ha has recorded: Sonno Eliso (2012); Missive Archetipe (2014); and Cabit, Unico Figlio (2017), which is based on Ligurian Christmas tradition and was recognised as one of the top ten world music/traditional discs of that year.
In 2020, Edmondo composed and performed live the music for the Theatre Stabile di Catania's production of Antigone, which ran for some 120 performances, throughout Italy.  He also composed and performed live the music for Le Baccanti.
Artistic producer for the majority of his own CDs, Edmondo in handles all the technical elements and the graphics; he also produces videos in his Home Studio.
Edmondo write articles on music and book reviews, for the music magazine rock progressive (MAT2020).
Luca Falomi
acoustic guitar, classical guitar, 12 string guitar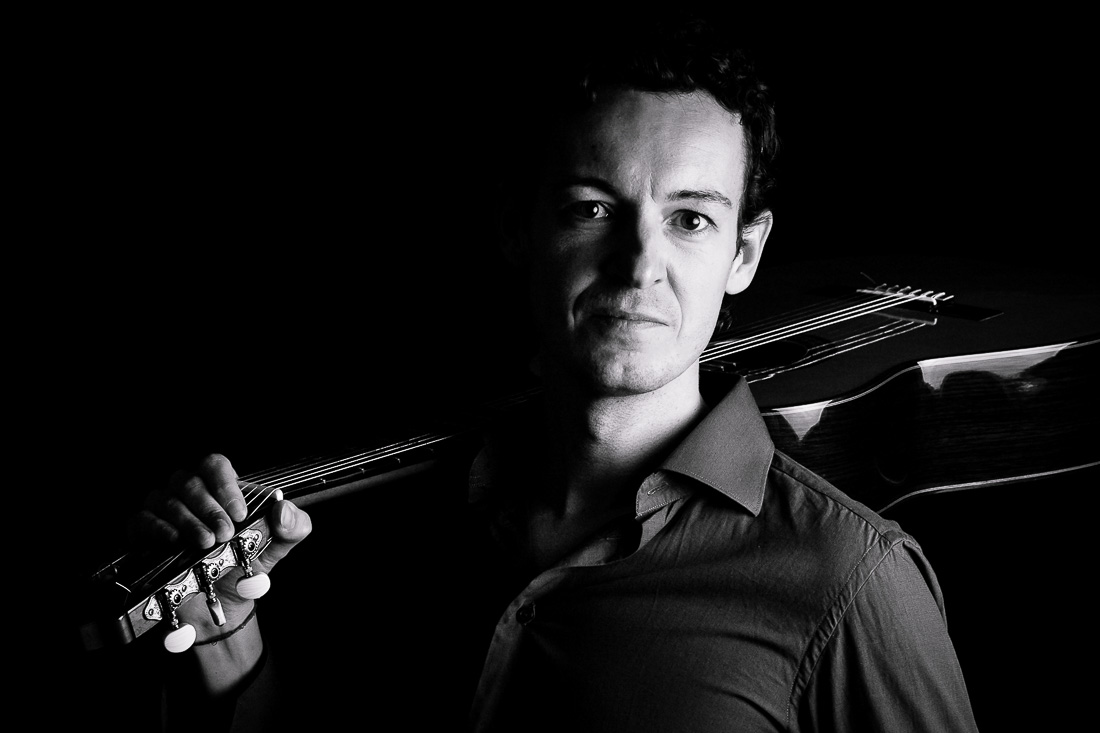 Guitarist and composer, Luca took his first steps into music at just six years old. While following his accademic studies in classical guitar, he soon discovered jazz and improvisation, and so set out on a path which lead him to deepening his understanding of the various languages and genres of music.
He attended a masterclass of international artists, who inspired in him a broader vision of music and his instrument. His interest in tone lead him to experiment with acoustic, electric, and ethnic stringed instruments.
His musical activities see him involved both in studio work and live performances, in projects of diverse musical genres: jazz, world music, original composition, experimental and contemporary music. In 2011, he released his first album, Viens Voir, followed, in 2014, by Sober, which was produced in collaboration with Marco Canepa, a very experienced sound engineer and record producer. Sober is an album of compositions characterised by cinematographic and evocative melodies, which blends world music, jazz and avantguard music. This album also gave life to the Esperando live project; an acoustic trio with double bass player Riccardo Barbera and drummer Rodolfo Cervetto, which creates original material interweaving diverse musical languages in jazz keys.
As a guitarist, arranger, and composer, he has been part of various projects: recording albums, live concerts and theatrical performances, in collaboration with: William Naraine, Petra Magoni, Ferruccio Spinetti, Franca Masu, Francesco Baccini, Hannah Scott, Fausto Beccalossi, Alberto Fortis, Lukas Mantel, Marco Fadda, Giovanni Ceccarelli, Michela Lombardi, Mario Arcari, David Clayton, Gino Paoli, Roberto Freak Antoni, Armando Corsi, Stephane Casalta, Nicola Stilo, Max Manfredi, Roberta Alloisio and Giulia Ottonello.